Horseback riding
There are multiple places nearby La Estrella de Cómpeta where you can go horseback riding. You could go out riding in Nerja. It's a real treat, even if you don't have any experience. To do so you could go to Cortijo Hildalgo. The horses are very well taken care of by the Swiss Spanish owners Heidi and Antonio. They ride in the Spanish Western style. That means you will hardly use the bridles. This might be something you need to get used to (especially with the enormous steel stirrups), but it's actually a very relaxed way of horseback riding especially during a tour through the mountains.
When you go horseback riding you will go trough the hinterland and mountains of Nerja. On the way back you will come through the orchards with avocados, olives and other fruit trees, you could even see the melons grow on the ground.
You could also choose for Los Caballos del Mosquin. This riding school is situated on the way from Cómpeta toCanaillas de Albaida. It's closer than Cortijo Hildago and has multiple possibilities for tours.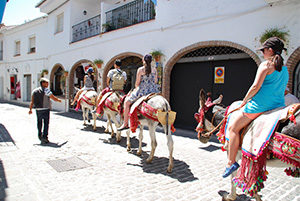 The owner, Eva, takes you through the beautiful environment of Andalusia with everything it has to offer. Eva speaks Spanish, German and English. For more information go to: www.horseriding-andalucia.com
Donkey riding
If you find horses just a little bit to big or if you want to see the towns in stead of the natural environment than you can choose for a donkey ride.
Horse and carriage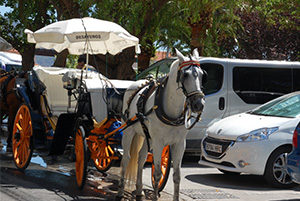 If your not able to ride a horse or donkey, or if you just not prefer to but you do want to see the environment in a different way, there is another option. You can enjoy the surrounding by a lovely or romantic horse and carriage in multiple towns in the region.