The house
La Estrella de Cómpeta is a detached house suited for six people. It's a great location for anyone who enjoys nature, or cultural discoveries. This holiday home is the location for if you want to relax during your holiday. If you'd like to have a more active holiday La Estrella de Cómpeta is a great destination as well. There are all kinds of activities you can do, like swimming, cycling, skiing, horseback riding and more. You can find an overview of the activities under the section Sports and recreation.
The house consists roughly out of two parts: the house and the apartment.
The finca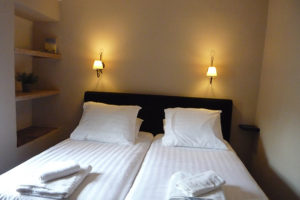 The finch is the main part of the house. It contains two bedrooms with each their own bathroom. Each bathroom includes a bath and a toilet. There is also a cozy decorated living room with a fireplace and a dining room with another fireplace. In the living room you'll find a stereo installation, a TV with over a 100 channels (among them you'll find the BBC).
You'll also find a fully equipped kitchen on this level. With fully equipped we mean you can find everything you need in the kitchen. There is a fridge, freezer, stove, an oven, microwave and a dish washer. Of course you can also find a blender, toaster, plates, cups, glasses, cutlery, etc. in the kitchen.
The apartment
The apartment is sort of situated beneath the main house. In the apartment you'll find th third bedroom, a bathroom (with a shower and a toilet) and a small sitting room. The door of the apartment opens up to the terrace in front of the pool.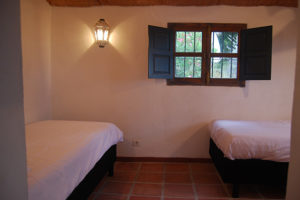 The rent of the house includes bedding, towels (for in the bathrooms), gas, electricity, water, firewood and Internet (Wi-Fi). Large towels for near the pool can be rented separate for € 5.- a piece.