Granada is situated 123 km from Cómpeta. Via de A44 you drive through a magnificent landscape. You can enjoy the amazing views from the many overpasses you'll pass on your way.
In this student city you can find, besides the overwhelming Alhambra, the Jewish district Realejo. This is the place to be for a bite to eat or a drink at one of the lovely squares or in one of the well-hidden bars. The district of Alabaycín is another sight to see. The Moorish folk architecture and the traditional Andalusian architecture are harmoniously intertwined in this quarter. This combination of architecture is what put Granada on the Cultural Heritage list of UNESCO.
Another special district is Sacromonte. Over years Gypsies have been living here in the cave homes. This is where we find the roots of the amazing (gypsy) flamenco.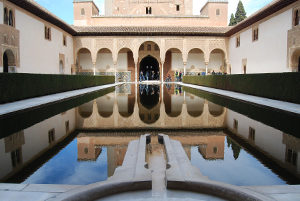 Are you more interested in the modern part of Andalusia? Granada is the trendiest city of Andalusia with respect of the long Islamic history. It bursts of modern shops and restaurants in the area around Plaza Bib-Rambla and Plaza Trinidad.