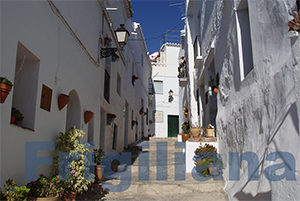 Frigiliana is a small village, about 27 kilometers away from Cómpeta. It's an absolute must see, when you're in the area. It's one of the best-preserved Moorish villages of Andalusia. It was built in 1767 and it's like time stood still in this little village. Every night the elderly men get together at the town square. The women go to church everyday, completely dressed in black.
You can have a delicious meal at the town square, but for the really great restaurants you need to go a bit higher into town. These picturesque restaurants give a marvelous view over the village, with Nerja and the coastline in the background.
Just like Cómpeta, Frigiliana is part of the Sun and Wine trail (Ruta del Sol y Vino). Frigiliana has been declared the most beautiful town of Spain several times.