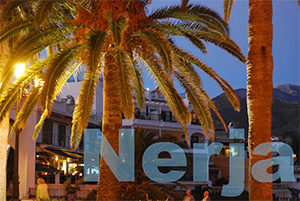 Nerja is a lovely white town that despite tourism, kept its authentic Spanish allure. The town is situated on amazing bays, with many beautiful beaches among which Burriana Beach. The town and the beach are only 20 minutes away from La Estrella de Cómpeta and are very easy to reach by car. Parking is free near the beach. At the beach you'll find great restaurants, but this is also the place where you can find the diving school Nerja diving (see activities).
The town Nerja is a great place to visit. There are many restaurants and bars where you can enjoy a great meal and or drinks. Among many things we advice you to go to Maria Bonita and order a tinto de verrano. Just try it!
But Nerja is also a great town to do some shopping or to just walk around and admire the architecture.
Balcon de Europa
The well-known Balcon de Europa is located in Nerja and is definitely worth a visit. It gives an amazing and unique view of the coast, which literally makes it the balcony of Europe. You can find the balcony in the middle of the town.
Nerja is par excellence a location for a beautiful walk along the coast at which you pass the rocks and beautiful beaches, like Burriana Beach.
Cave of Nerva
Another amazing sight is the Caves of Nerja. They were discovered in 1959 but are over 5 million years old. The caves are among the most beautiful ones of Europe. They are also known as the natural cahedral of the Costa del Sol. Over 800 meters of the caves is open for the public. The caves are dived in galleries in which you can admire the fantastic formations of stalactites and stalagmites, and other dazzling natural rock structures.
You can find the International Musical festival at the cavesin July, which is worth a visit.
Besides enjoying the caves, sun, see and beaches of Nerja, you could also enjoy its lovely center. The center of the town exists out of a busy main road with authentic small streets attached to it, where you can find all kinds of nice shops. There are two little squares in the authentic core of the town, where you'll find lovely terraces and restaurants.
Combined with the great beaches, the lovely center and beautiful nature Nerja is a great destination for a day in the sun and more.